All silos should be regularly inspected whether they are old or new, rarely or frequently used. Identifying potential problems early on through routine inspection can save you big. Silo issues that need to be remediated only become more costly to repair and more dangerous the longer you wait.
Silo Inspection Cost Savings:
Planned downtime is always far more economical than unplanned downtime.
Routine repair of a silo will cost you much less than an emergency repair.
Small repairs are quicker and cheaper than a silo failure.
Ideally, silos should be professionally inspected a minimum of every two to five years. There are, however, conditions that may require more frequent silo inspection, so it's important to know
when to schedule a silo inspection
.
Professional
silo inspection
covers more areas of the silo than an in-house inspection. Trained silo inspectors or silo engineers examine your silo(s) in-depth to look for serious issues and provide preventive maintenance suggestions that can help keep your silo in the best shape possible.
When combined with silo cleaning, the inside of the silo structure, including roof beams and beam pockets, cones, floors, shelves and tunnels, can be thoroughly examined for signs of wear or damage.
Sticking to a regular inspection schedule with a trusted professional
silo inspection
company pays for itself. Through inspection and maintenance, you increase the useful life of your silo, reduce unplanned downtime, and uphold production goals. What's more, the lack of silo maintenance is a leading cause of failure. The costs of keeping up with preventive maintenance are significantly lower than the price of major repairs or construction after a structural failure.
Marietta Silos and USA Silos are the leading industry experts when it comes to
silo inspection
,
cleaning
,
maintenance
, and
repair
. Contact us today to
schedule a silo inspection
. To learn more, be sure to check out our full library of
silo videos
on silo maintenance, inspection and repair on

.
---
Storage silos are used in almost every industry to store materials safely until they are needed for use, but no matter the design or the materials stored, silos are susceptible to material flow issues caused by blockages.
Blockages not only lead to a reduced storage capacity and disrupted or slowed operations, they also promote bad flow characteristics. When material flow is off, delamination, exterior concrete cracking and structural failure can result. There are numerous blockage types possible in storage silos, two common flow issues are bridging or caking.
If there is a blockage and your silo is plugged, here's how to know whether it's related to bridging or caking.
Bridging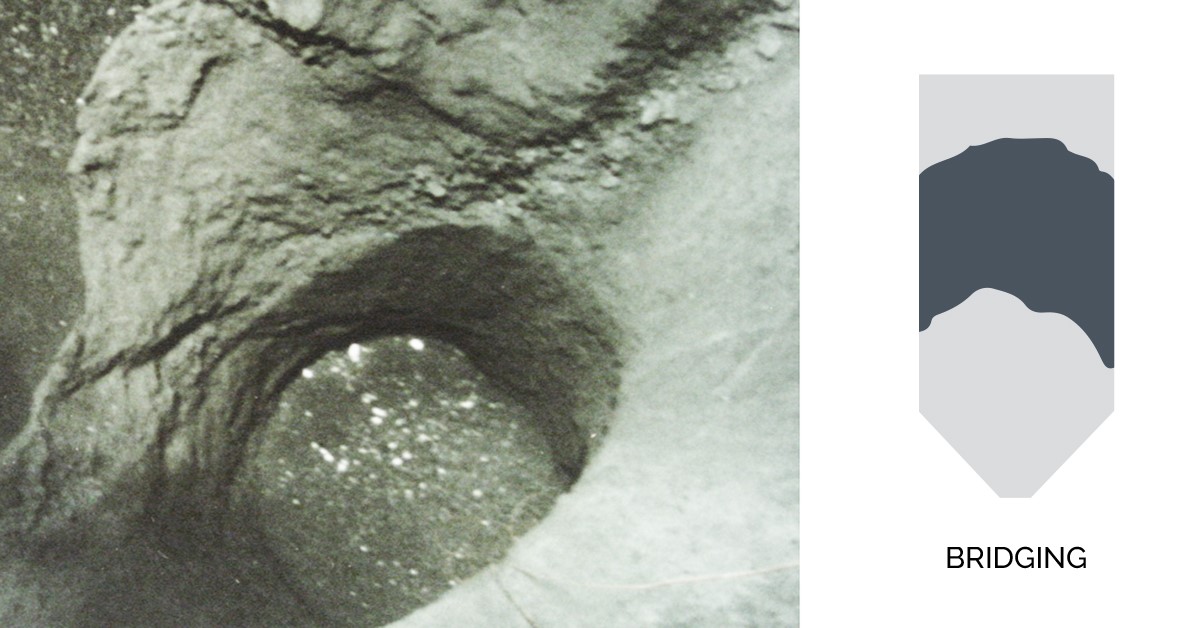 When material is poured into the storage silo it exerts pressure on the material under and around it, and with some materials, this surrounding pressure can cause a structural bond. This bond results in a bridging effect, where the bottom of the bridge empties but a dome arch remains, preventing any further material from flowing. As more material is dumped on top of the bridge the pressure exerted increases and the bonds holding the bridge together will actually become stronger.
Caking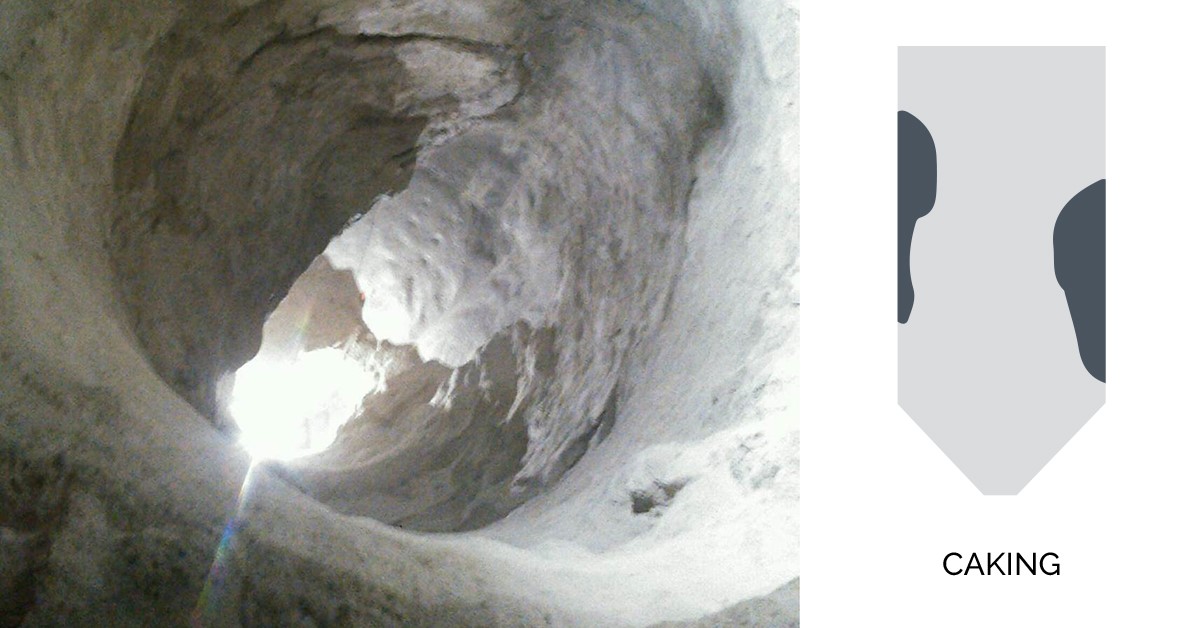 Caking occurs when powder, such as detergents, fertilizers and salts, become cohesive after storage, forming agglomerates comprised of individual particles that are bonded together. Caking results when the magnitude of interparticle forces increase over time. The most common cause of caking is moisture migration due to temperature changes with materials that are soluble. Caking creates resistance to flow in silos and can result in residue on walls.
You can help reduce the likelihood of material build-up through a number of ways, click
here
to watch and learn more. Depending on how easily stored material compacts or hydrates, your silo may need to be completely emptied on a regular schedule as often as once a month or as little as every year.
Silos that are regularly emptied and refilled are less likely to experience build-up issues than in those kept topped off. Regularly emptied silos need professional
cleaning
less frequently in comparison. They are also less likely to experience issues like compacting and hydrating. Hydration occurs when moisture mixes with stored materials and causes them to solidify within the silo. When this happens, materials can expand and cause added wall pressure, increasing the likelihood of structural failure.
The routine examination of your silo is only effective in increasing facility safety and ensuring smooth operations when it is conducted in conjunction with professional
cleaning
and
inspection
services as part of a regular preventive
maintenance
schedule.
Whether you have bridging, caking or plugging of any stored material, it's essential to contact
USA Silo Service
, a division of the Marietta Group, which includes Marietta Silos and Marietta Inspection Services, to have the build-up removed quickly. This
recent case study
shows USA Silo Service using their proprietary equipment and
cleaning methods
to remove coal build-up in a silo and greatly improve material flow.
To learn more, be sure to check out our full library of
silo inspection videos
on
silo maintenance
,
inspection
and
repair
on our

.
---
Prevention is the most effective method to ensure the integrity and continued operation of your silo. Regular maintenance and inspections can increase the life of your silo and ensure the safety of those working around your structures.
Though frequent inspections should be conducted in-house to catch warning signs early on it is important to understand the accompanying limitations. Many serious issues can only be identified by experienced silo inspectors or silo engineers during in-depth examination of empty silos free from material buildup.
The routine examination of your silo is effective in increasing facility safety and ensuring smooth operations only when it is conducted in conjunction with professional inspections as part of a regular preventive maintenance schedule. When used in place of professional services, in-house inspection, cleaning, and repair procedures increase safety risks. Failed silos can sometimes be repaired and some stored material can be recovered. However, companies often face additional costs from cleanup, possible environmental damage, injury, or loss of life.
While working on welding and fabricating metal bins for a concrete silo in December 2016, a fire broke out and resulted in the death of one crew member. After determining the crew did not have the required confined space permit, a general negligence action was settled for $1.75 million. (Michigan Lawyer Weekly, April 2017)
In August 2013, employees at an Ohio-based concrete facility attempted to remove material buildup of fly ash clumps in a clogged silo. After cleaning attempts of the interior using "a metal bar and air hose failed" an employee, who entered the silo without a lanyard and harness, died when a fire erupted. During the investigation, OSHA noted 10 serious safety violations, which resulted in a fine of $55,800. (OSHA News Release, November 2013)
Both of these accounts highlight preventable accidents where the necessary confined spaces permit was not held and the workers did not have the necessary safety training. Confined space permits and safety training are essential for safe inspections. While there are no inspection recommendations specific for silos, OSHA does have policies regarding confined space entry that are essential for interior inspections.
The effective inspections, however, depend on more than this permit. Inspectors must also have field experience and an understanding of the unique properties that effect silo material flow and structural integrity. Industry experience further enables trained silo and bin inspectors to recommend preventative maintenance to address issues before they become serious problems. Only inspectors with industry experience and proper silo engineering, design, and construction training can anticipate these issues to increase the effectiveness and safety of your silo.
It is recommended that you conduct professional inspections at two- to five-year intervals to help identify any issues that could lead to structural failure. Silo inspections should include examining the main aspects known to be potential areas of failure. These inspections should include the foundations, walls, cones, discharge configuration, floors, shelves, tunnels, and roofs.
The Mine Safety and Health Administration (MSHA) and OSHA have consistently emphasized a focus on silo processing and activity, but in recent years, one of their primary efforts has been on the importance of workplace safety and accident prevention. When it comes to the enforcement of safety policies, if there is an issue within a facility, the MSHA and OSHA are expecting to see a current silo inspection report for reference and assessment. Many insurance companies are also now requiring silo inspections on the facilities they insure.
Inspections can uncover problems that require immediate remediation. The most important thing to remember when conducting silo inspections is to consult a professional silo inspection and repair company if you discover anything alarming. You should also defer to a professional inspector if you do not have personnel with the necessary permits for closed space entry.
The importance of having regularly scheduled inspections by a professional silo company is even more evident in a recent case study in Florida where multiple discharge asymmetric flow failures were present.
To learn more, be sure to check out our full library of silo inspection videos on silo maintenance, inspection and repair on

---