Silo Inspection
Marietta Silos provides thorough, accurate concrete and steel silo inspections that merge over a century of experience with the latest technology.
Silo inspection
is the most effective, preventive method to ensure concrete and steel structures, surfaces, and silos.
Regular maintenance
and silo inspection increase your concrete's life and ensure the continued safety of those working around your structures. A proactive safety program should always include regular
silo inspections
to check for concealed damage and to assess visible problems that could lead to structural failure. Based on inspection results, preventive maintenance can be performed to avoid larger, more expensive
silo
repairs
later. The cost of preventive maintenance and
restoration
is minimal compared to the financial and physical toll that a full collapse can have on your company and team.
Silo collapses are often the result of preventable structural failures that would have been identified during routine silo inspection.
Common issues that cause concrete structure and concrete silo failure include:
Foundation deterioration
Roof collapse due to roof beam structural issues
Improper material filling and unloading procedures in silos
Silo wall delamination or deterioration
Silo discharge cone or bin floor issues
Steel silos suffer from corrosion, which can be inspected using wear-measure thickness ultrasonic gauges.
Whether your inspection plan should follow annual, two- or five-year intervals depends on several key factors.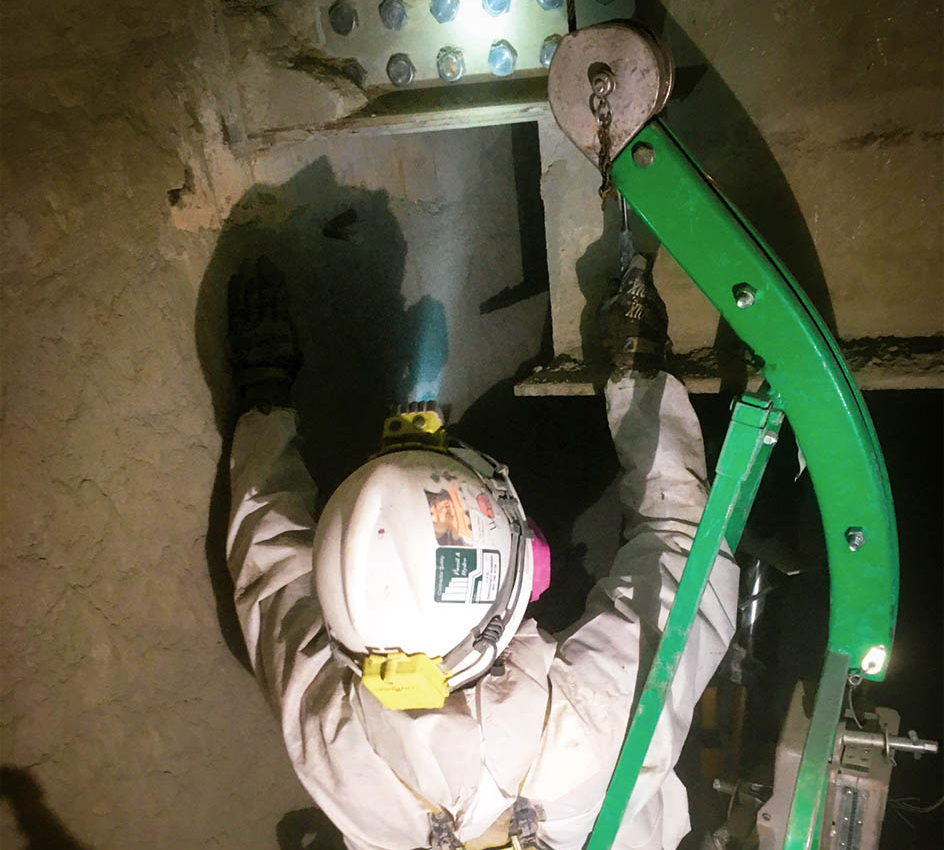 SILO INSPECTION AND MAINTENANCE
Much of this damage is easily preventable through routine silo inspection and maintenance. Third-party inspections, maintenance and restoration services are the best way to manage safety on any scale. Many structural issues can be easily and economically addressed if caught early. If you have not had your silo inspected recently and have concerns about visible signs of silo damage, do not wait. Call Marietta Silos today to set up a silo inspection that best fits your needs.
Marietta Silos Inspection Services recommends regular inspection of concrete structures to ensure their continued safety. Marietta Silos recommends that all concrete storage silos be inspected every two to five years, depending on their condition and the amount of usage. If the silos are subject to extreme use, an annual inspection may be appropriate.
Following the
silo inspection
, a report will be issued documenting the inspector's findings and listing any restoration recommendations. If repairs are necessary, Marietta Group can provide a proposal to complete the restoration through Marietta Silos or Marietta Inspection Services as appropriate.
A.I. Supplemental Inspection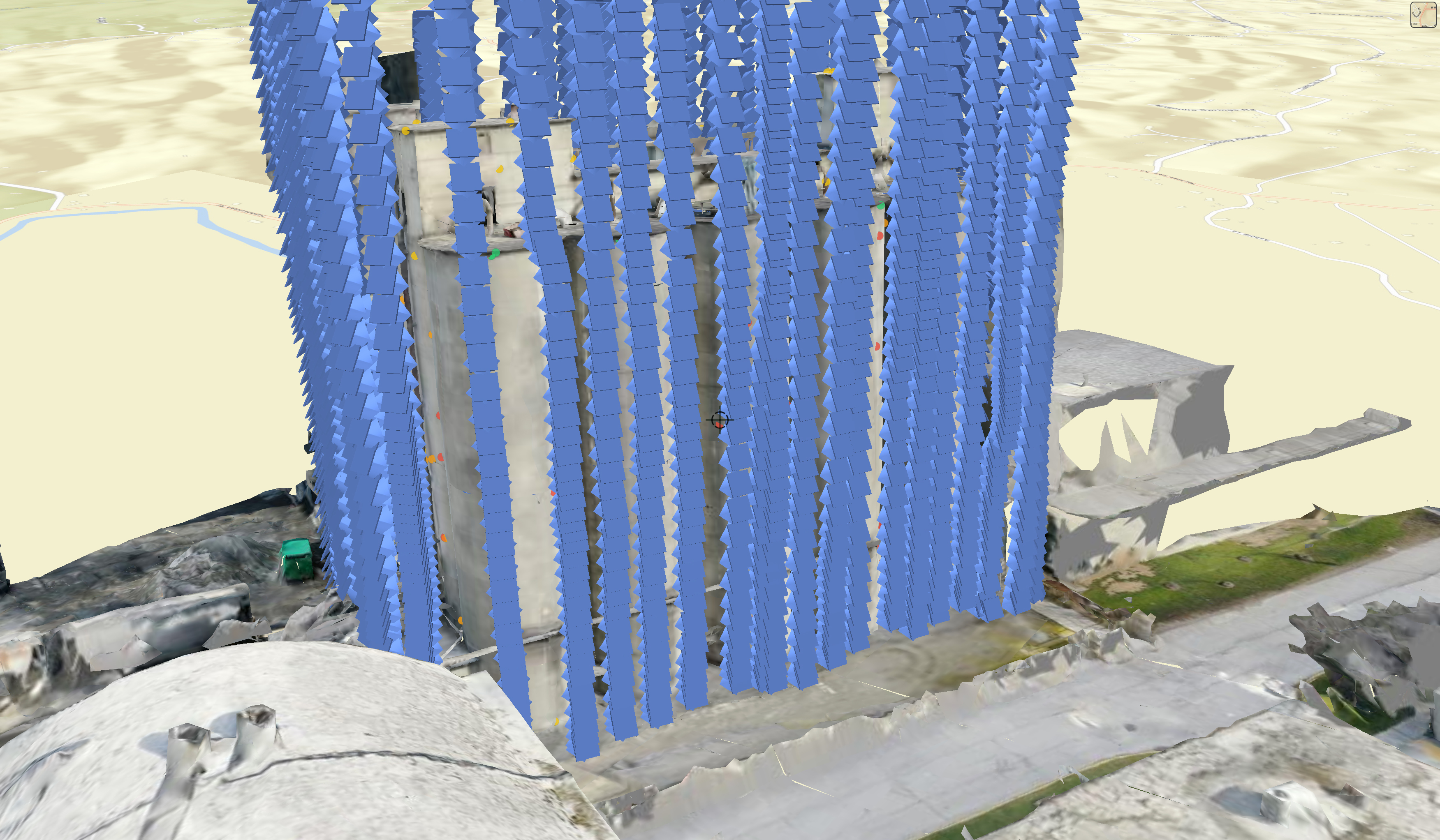 Our A.I. Supplemental Inspection changes the face of silo inspections by incorporating powerful artificial intelligence (A.I.) software and drone capture technology to allow faster, more accurate exterior inspections. A.I. Supplemental Inspection uses drone capture technology to obtain images and videos of the entire silo or bulk storage container exterior. This data is then processed, using proprietary software, into an interactive 3D model. Artificial intelligence (A.I.) algorithms identify damages or defects on the silo surface. Defect information, including type, measurement and exact location, are then ranked in order of severity.
It can be used as a standalone, supplemental inspection service between regular inspections
Highly accurate A.I. software can detect even small defects (smaller than 0.1 mm) and map the precise location onto the captured silo image for future examination
Faster crack and exterior defect mapping
Customers receive detailed PDF with damage mapping analytics ranked by severity
When used annually, it gives you a clear portfolio to track defect changes year by year and reduce liability from unexpected failures
Basic - Level 1 Inspection
Under Level 1, an inspector will complete a thorough, basic inspection. We will:
Observe the walls, foundation and roof from the ground or other locations as available
If possible, observe the silo discharge area
Level 1 +AI adds the A.I. Supplemental Inspection
Augmented - Level 2 Inspection
Level 2 inspection is a more thorough examination by a crew that includes all items listed in the Level 1 inspection as well as:
Sounding of the concrete for delamination
Non-destructive thickness testing of the exposed silo cone area
If possible, an inspection of the silo interior through the roof and wall openings
An interior inspection accomplished through vessel entry, as needed
And if necessary, a silo design engineer can review the inspection findings
Level 2 +AI adds the A.I. Supplemental Inspection
Comprehensive - Level 3 Inspection
Inspection Level 3 will include Level 1 and Level 2 procedures along with:
Exterior and interior rigging to allow the inspector to observe the walls
This level of inspection includes the services of a senior silo design engineer to observe the silo and make recommendations
Level 3 +AI adds the A.I. Supplemental Inspection
Regardless of the silo inspection level chosen, every effort will be made to determine the silo or concrete structure's condition and identify problem areas. Following the silo inspection, a report will be issued documenting the inspector's findings and listing any repair recommendations. If restoration is necessary, Marietta Group can provide a proposal to complete these repairs through Marietta Silos or Marietta Inspection Services as appropriate.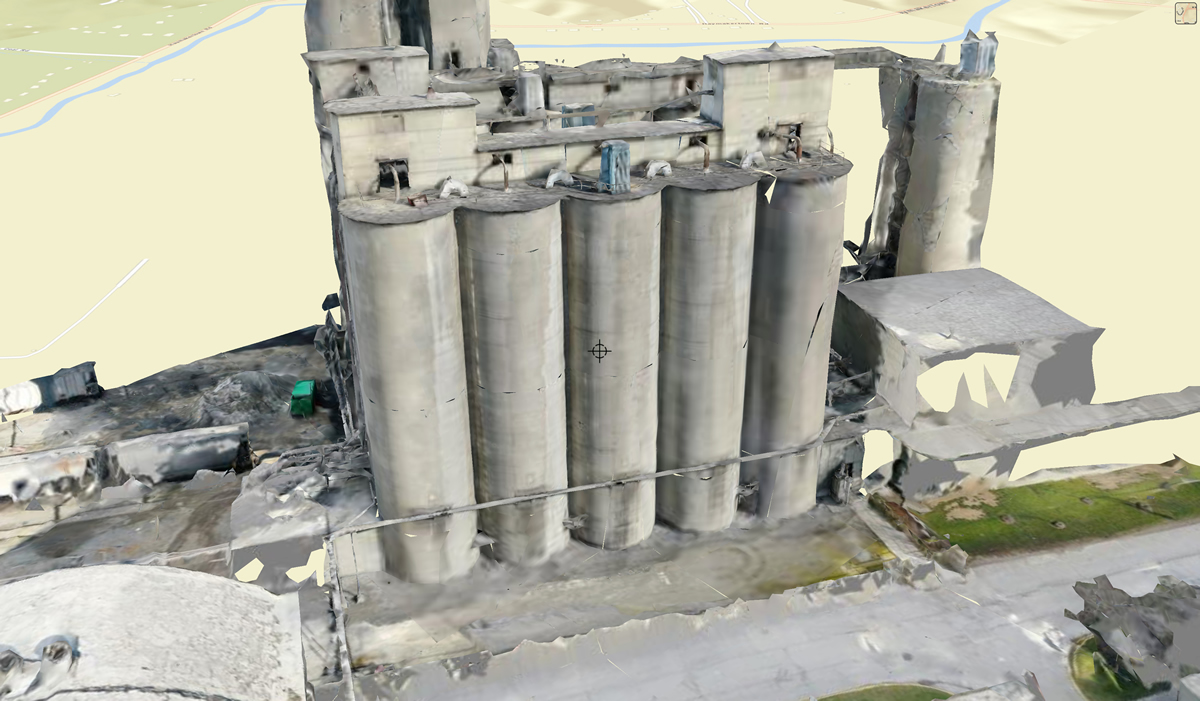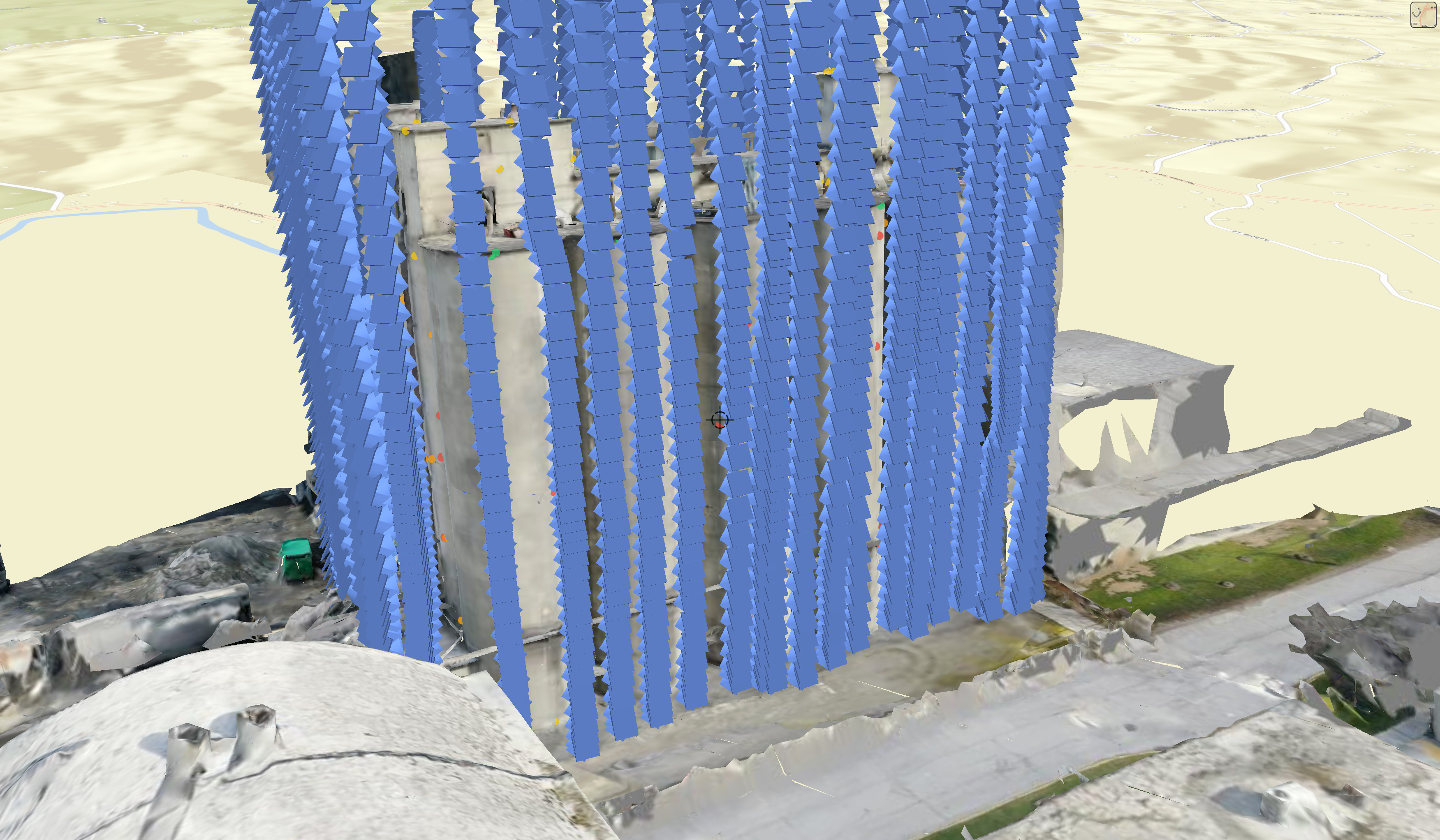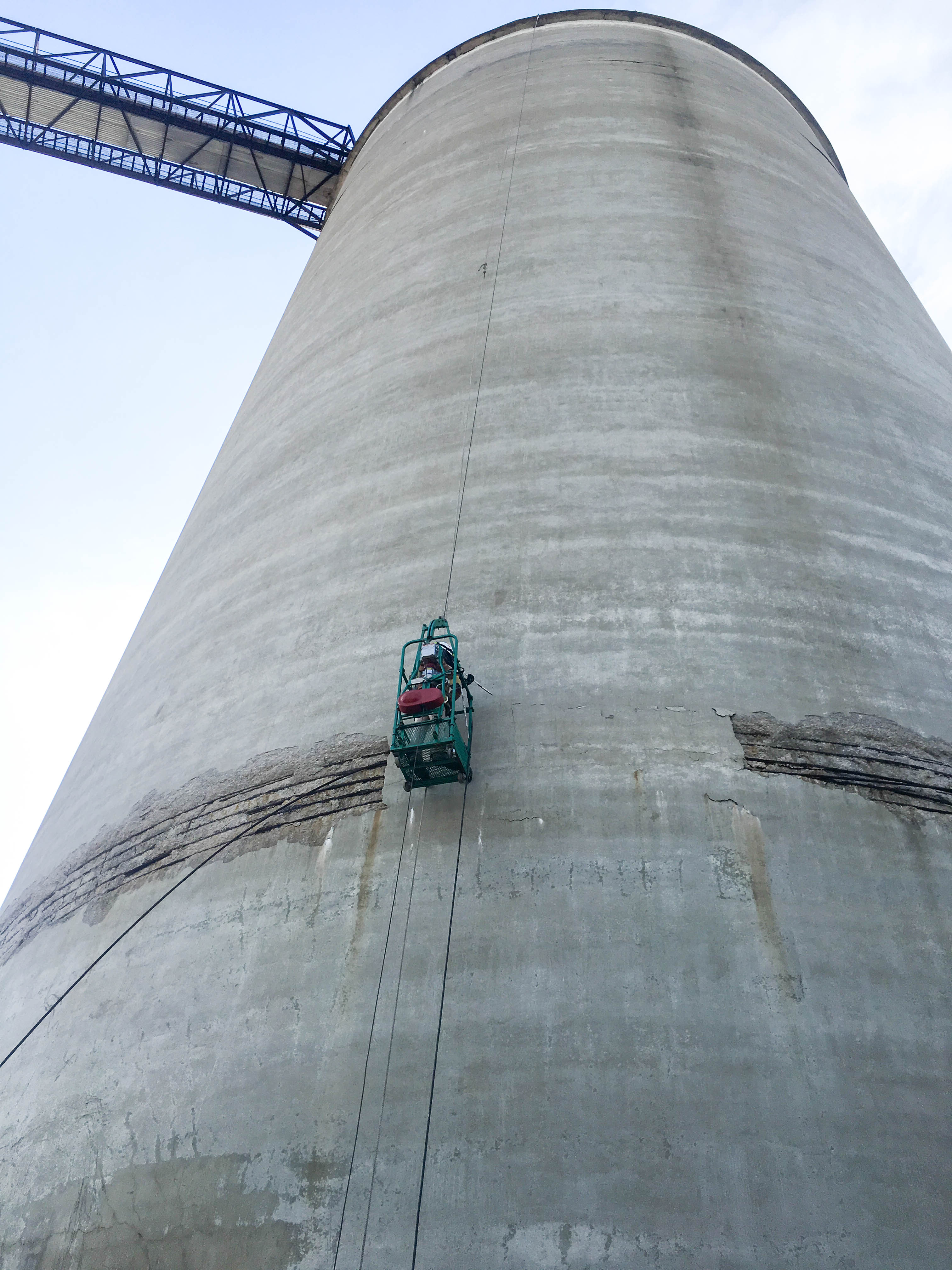 All of our inspections examine aspects known to be potential areas of failure. In general, this includes foundations, walls and roofs. For concrete silos, it also includes cones or discharge configuration.
Silo Foundations
A strong foundation is integral to wall stability and the overall safety of the workplace or structure. Cracking foundations and earth erosion around the foundation are relatively easy to identify during general inspection if above grade. Other issues, such as settlement, can only be determined through close examination by a qualified professional.
Silo Walls
Walls are placed under an enormous amount of stress horizontally and vertically during the concrete structure or silo's normal useful life. These stresses can result in horizontal, vertical or diagonal cracking of the concrete walls or offset stave joints in
stave silo construction
. Cracked silo walls can indicate delamination, which greatly comprises the structural integrity of steel reinforcement in the silo wall and can potentially lead to failure or collapse if not repaired immediately.
Silo Cones, Floors, Shelves and Tunnels
Silo discharge cones are frequently at the forefront of silo failures. Silo discharge cones are of utmost concern in being inspected for wear, weld condition and structural integrity. Silo floors, shelves, and tunnels are particular areas of concern regarding concrete deterioration. They typically involve an interface of steel and concrete that can draw moisture, introduce or show signs of movement relative to the structure and lead to water and material leaks.
Silo Roofs
As with any structure, the roof generally receives the brunt of physical and environmental abuse. Proper roof maintenance is needed to keep the materials within the silo safe and dry and prevent further damage to other concrete structures. Silo roofs are subject to abuse from overfilling, explosions, vibrations and movement during silo loading or unloading and overloading, as well as environmental abuse. A buildup of excess material leaking from conveyors on top of the roof can put undue stress on the internal infrastructure and lead to roof sag, increasing the risk of collapse.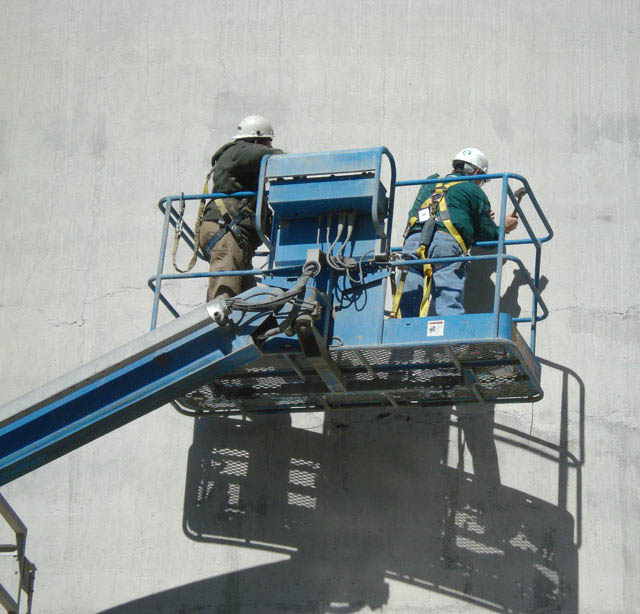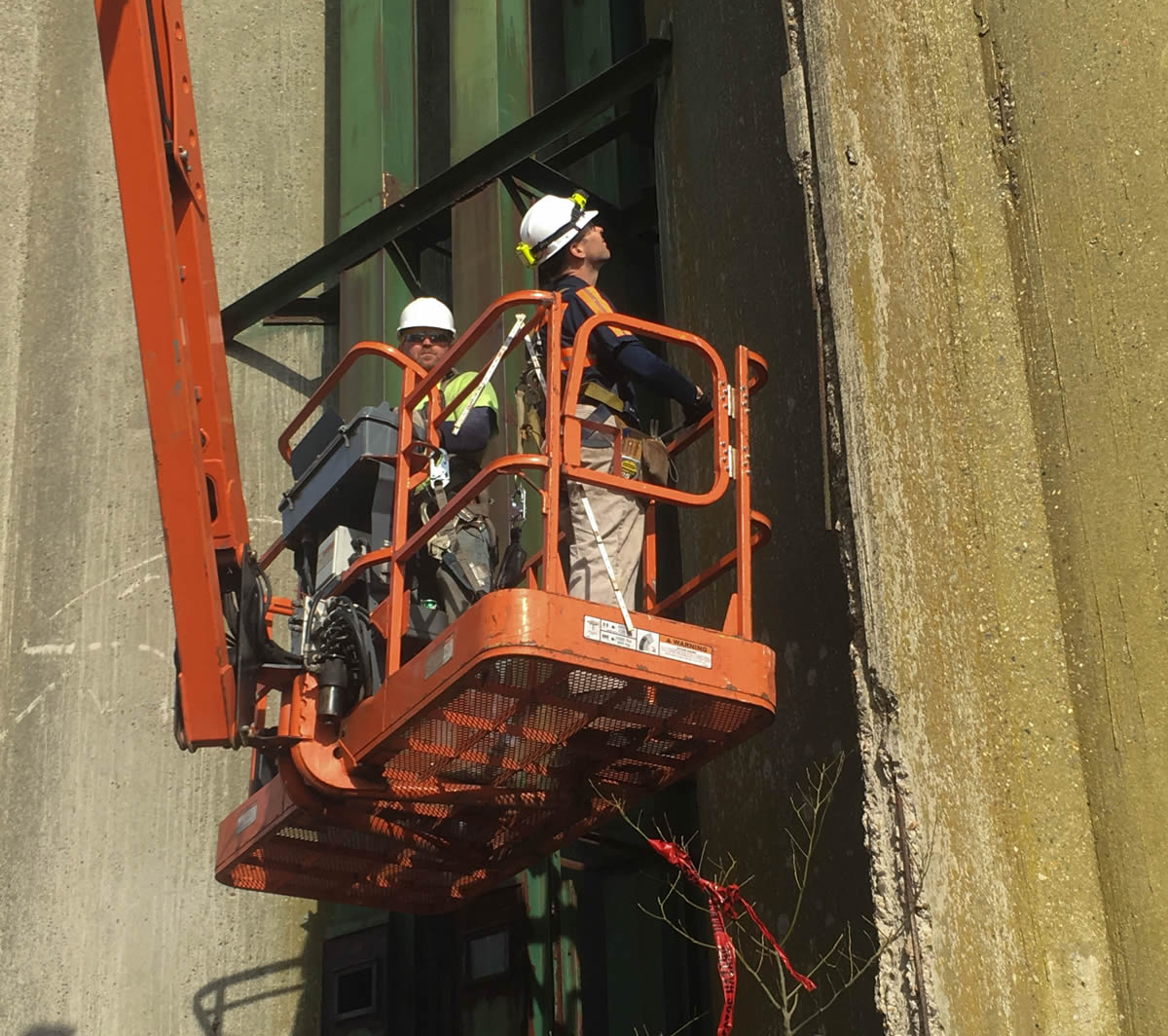 Marietta Inspection Services and Marietta Silos can now work in tandem to complete inspections and
restoration
in one mobilization. Inspections and most
repairs
can be finished using common materials and some pre-engineered solutions adapted from years of silo industry experience. Combined inspection and restoration services save you thousands by eliminating redundant labor and multiple trips and get your silo running safely again faster.
Our mobile staging trailer is configured to transport instrumentation, tools and support equipment needed in the field to ensure the
safety
and efficiency of our field crews. Our standard on-site equipment package includes all materials and equipment required to maximize personnel safety per the OSHA Confined Space Standard 29 CFR 1910.146.
In the trailer, we transport all necessary equipment to go through the silo interior during an inspection. In addition, the trailer also carries equipment to install hanging inspection baskets to the exterior of the silo used to raise and lower an inspector from grade to the roof at any area on the silo exterior. We include a full array of inspection equipment, including concrete testing equipment, steel thickness measuring devices, and equipment to detect delamination on concrete and concrete walls.
To safeguard our inspectors, we provide air monitoring equipment to ensure that the environment that the inspector is being lowered into is safe for human access. Also included is equipment for emergency retrieval. If requested, we can stock the trailer with some
silo restoration
equipment and materials to do small repairs on-site at the time of inspection. This option can save the customer a tremendous amount of money and downtime. Our branded trailer serves as a focal point for Marietta Silos field staff, customer facility personnel and independent contractors who collaborate with us on
silo construction
, inspection and safety presentations throughout the United States.