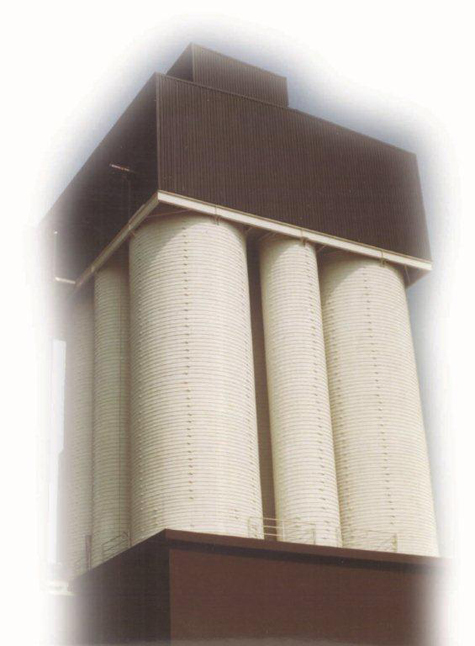 Concrete stave silos consist of interlocking concrete staves compressed by exterior steel hoops. The staves are produced similar to a concrete block, and are manufactured on a concrete block machine. They are made with a tongue and groove system on the top and bottom, allowing the stave to lock into place with the staves above and below. Staves are placed in a circle while the hoops are tensioned to provide the primary structural integrity of the silo wall. The exterior galvanized steel hoops are installed and tensioned to industry standards.
The staves of the silo are typically 10" wide and 30" tall, with a thickness of 2" to 5 ¾". Marietta Silos is an industry leader as we are the only company in the United States that produces 5 ¾" thick staves. Interior and exterior cementitious coatings seal the silo walls. The interior cementitious coating seals the internal joints between staves and gives a nice, smooth finish to the interior of the silo. The exterior cementitious coating, a technology developed by Marietta Silos in 1920, contains bonding and waterproofing agents to seal the joints between the staves and add a level of corrosion protection to the steel hoops on the exterior of the silo.
Concrete stave silos offer versatility and flexibility, as well as economy. They can be provided with many discharge types such as cone, flat floor, side discharge and tunnel discharge.