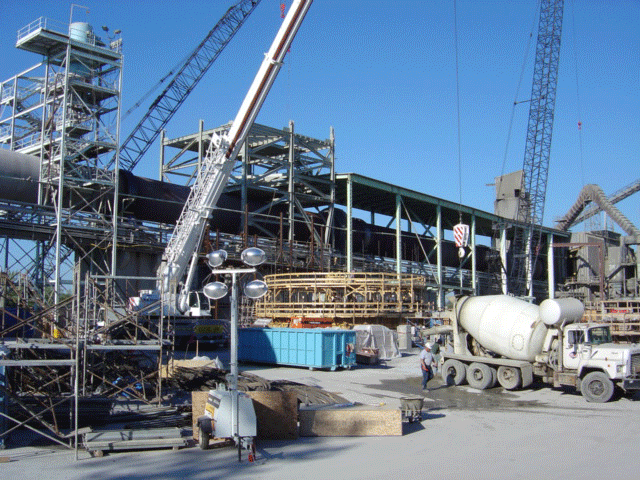 Slipform silos are best for construction projects over 65' in diameter. They are formed from a continuous, monolithic pour of the concrete walls, which creates a smooth, continuous outer appearance. The need for a continuous pour necessitates a 24 hours per day schedule, including nights and weekends, until the silo is completed. This contributes to a possible increase in overall costs over Jumpform construction techniques under 65' in diameter.
The walls of Slipform silos are faster to pour than Jumpform silos. However, the time savings is offset by the time required to construct a custom-built form system for both the interior and exterior of the silo wall. Construction of the Slipform system takes approximately two months to create. Overall, the construction time is equal to the Jumpform.
Slipform silo forms are an integrated form and work deck system that includes an interior work deck and interior and exterior finishing scaffolding. The form is also supported by jack rods that are attached to the hydraulic jacks to slowly raise the forms during construction. The forms raise continually, about one foot per hour, with crews working both above and below the rising forms at the same time. Workers on the interior work deck continue to pour new concrete and steel reinforcement along with embedment as the form raises, while workers on the interior and exterior scaffolding hand finish the silo walls as they are exposed by the rising form.
Slipform construction is typically the best choice for more than 65' diameter silo construction or if multiple concrete silos need to be created at one time.
Check out our Blog Post: Do You Have Cracks in Your Cement Slipform Silo Walls?