Silo Inspection of Multiple Discharge Asymmetric Flow Failure - Florida
Market: Manufacturing
Material Stored: Phosphate
Silo Size: 45' diameter by 115' tall
Issue: Multiple discharges caused asymmetric flow and silo failure.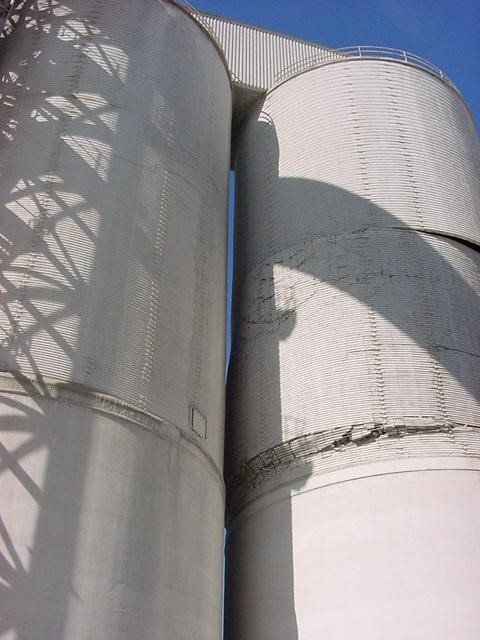 Pictured above are two silos with a concrete stave upper with structural steel hoops surrounding the outside vertical walls and a poured in place concrete base. The silo on the right exemplifies silo failure due to asymmetric flow.
Marietta Silos was called in to inspect this particular silo after the damages had occurred. After inspecting the silo in its failed condition, it was determined that the flow of the material caused the failure. This silo had multiple discharges at the bottom of the cone in the silo. Due to the various discharges, the material flowed along the wall instead of down the middle, creating increased pressure the wall was not designed to handle. The silo pictured did not have regularly scheduled inspections by a professional silo company that could have determined the asymmetric flow prior to the silo failure.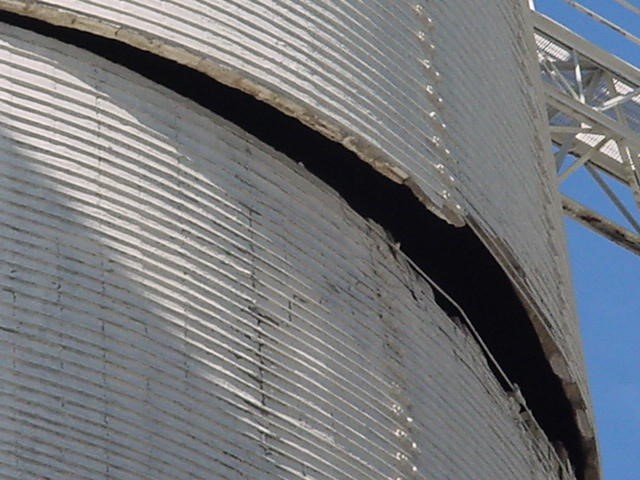 It is imperative to have silos inspected regularly by an experienced, professional silo company. Preventive maintenance and inspections should be incorporated for all material handling equipment to ensure safe and efficient operation for all industries.