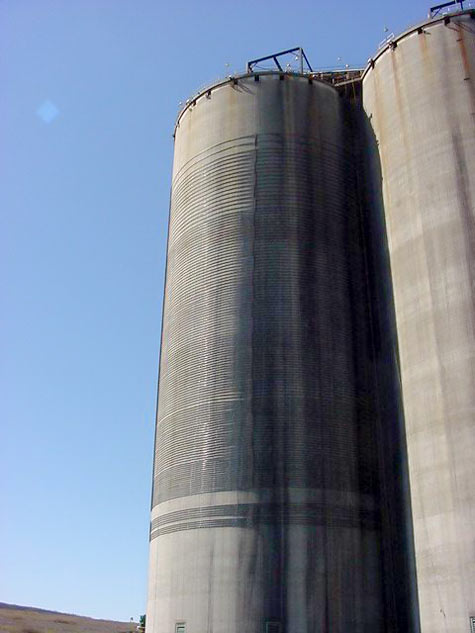 Extend the life of your silo at a fraction of the cost of new silo construction with our silo repair, maintenance and cleaning services.
Concrete and Steel Silo Repair
Marietta Silos is the largest silo repair company in the United States and the only one involved in Jumpform, Slipform, stave, and steel silo construction and repair. Therefore, we are the only firm in the country that can take care of every aspect of your silo. From design to construction, we leverage our decades of knowledge to create a streamlined process.
Marietta Silos has a rich history of repairing silos for over 100 years. Many silo repairs need design and engineering input and we boast repair supervisors that have over 50 years of experience in designing and building a repair right the first time. In any silo repair, we always try to identify the root cause of the damage to the silo and to incorporate those findings into our repair and design procedure to prevent further deterioration.
Whether you have an emergency silo issue or a silo repair that has been a long time coming, our experts have the experience and expertise to fix the problem for good.
Learn more about Steel and Concrete Silo Repair from Mr. Silo.
Our team is prepared to act quickly and offers emergency services to meet all of your silo needs.
Steel and concrete silo repair options include:
new or modified silo discharge cones
wall and roof sealing
silo post-tensioning
shotcrete-gunite
structural silo repair
silo roof repair
rehooping
composite fiber reinforcement
wall cracking, bulging, and failure
concrete spalling
concrete delamination
discharge cone blockage and/or failure
beam and beam pocket, and
silo design conversion (e.g. agricultural silos converted for industry)
Learn more about our structural silo repair services.
Marietta Group provides cleaning and maintenance services for bulk storage bins and containers across North America.
Our cleaning and maintenance services include:
silo air pad diffusers
fluidizing equipment
rubber silo coating
silo industrial coating
silo rooftop coating
silo leak repair
bulk storage cleanout
borax silo cleaning
black cement silo cleaning
carbon black silo cleaning
clay silo cleaning
clinker silo cleaning
sand silo cleaning
flour silo cleaning
grain silo cleaning
fly ash and palletized fly ash silo cleaning
lime silo cleaning
gypsum silo cleaning
salt silo cleaning
soda ash silo cleaning
Learn more about our silo cleaning & maintenance services.
Marietta Silos has a vast amount of specialized silo repair, cleaning, modification, and inspection equipment – the most extensive inventory of its kind in the country.
Check out our blog post on Types of Silo Repairs to Prevent Silo Collapse.