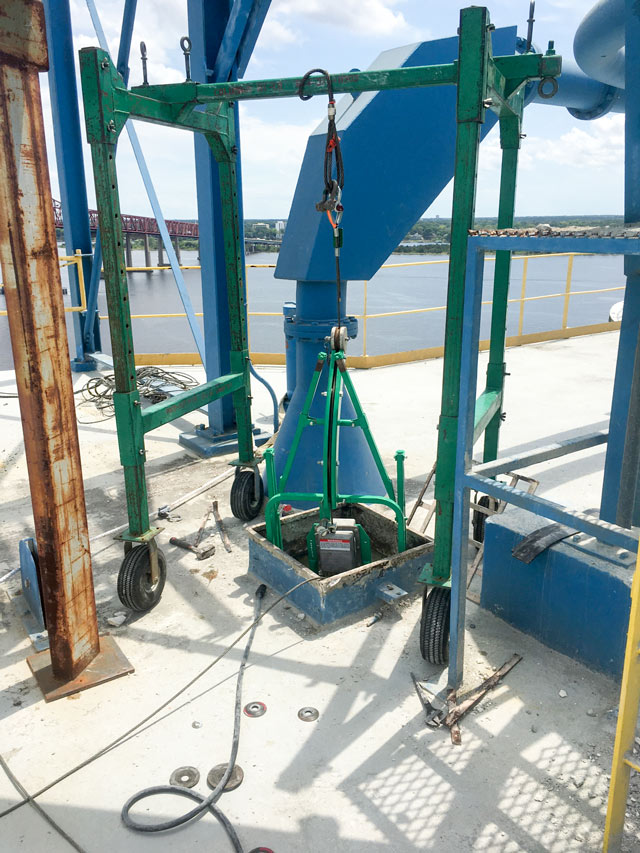 Multiple crews are ready to work with you to get your silo on our inspection schedule.
You can schedule our new mobile staging trailer to come to your facility inspection. The trailer is configured to transport instrumentation, tools and support equipment needed in the field to ensure the safety and efficiency of our field crews. Included in our standard on-site equipment package are all materials and equipment required to maximize personnel safety in accordance with the OSHA Confined Space Standard 29 CFR 1910.146.
In the trailer we transport all of the necessary equipment to go through the silo interior during inspection. In addition, the trailer also carries equipment to install hanging inspection baskets to the exterior of the silo used to raise and lower an inspector from grade to the roof at any area on the silo exterior. We include a full array of inspection equipment including concrete testing equipment, steel thickness measuring devices, and equipment to detect delamination on concrete and concrete walls.
To safeguard our inspectors, we provide air monitoring equipment to ensure that the environment that the inspector is being lowered into is safe for human access. Also included is equipment for emergency retrieval to conform to OSHA confined space requirements. If requested, we can stock the trailer with some silo repair equipment and materials so we can do small repairs on-site at the time of inspection. This option can save the customer a tremendous amount of money and downtime.
Contact us at 800-633-9969 if you are ready to schedule your silo construction or repair project.
Marietta Advantage Program
Participants in the Marietta Advantage Program will have their projects placed into our priority status classification, which gives preferential choice of our construction resources in order to achieve a requested schedule.
If you have a project you would like us to assist you with, please contact us directly, or you may fill out the form below.
Level I/II/III Inspection Questionnaire