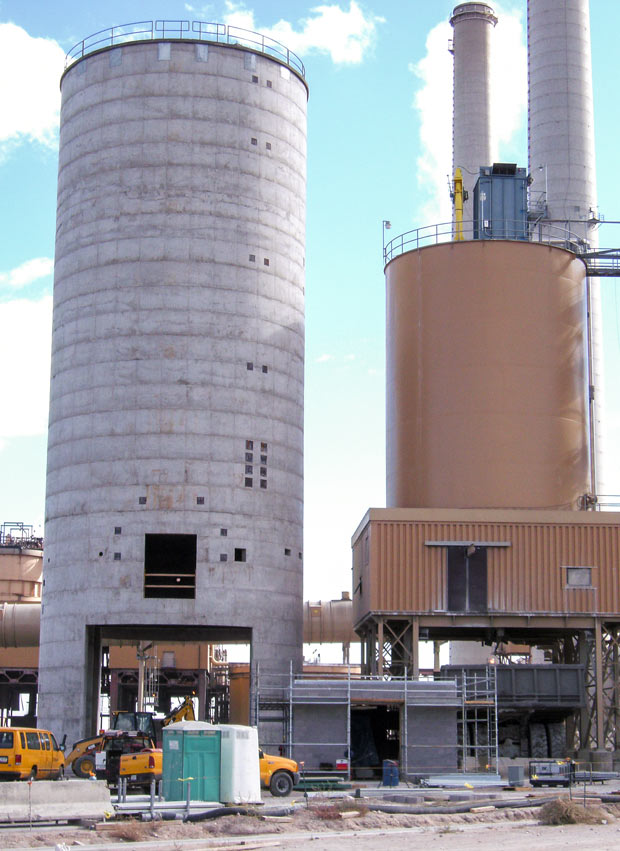 Slipform Silos
Slipform silos are best for construction projects over 65' in diameter. They are formed from a continuous, monolithic pour of the concrete walls, which creates a smooth, continuous outer appearance. The need for a continuous pour necessitates a 24 hours per day schedule, including nights and weekends, until the silo is completed. This contributes to a possible 20% increase in overall costs over Jumpform construction techniques under 65' in diameter.
The walls of Slipform silos are faster to pour than Jumpform silos. However, the time savings is offset by the time required to construct a custom-built form system for both the interior and exterior of the silo wall. Construction of the Slipform system takes approximately two months to create. Overall, the construction time is equal to the Jumpform.
Slipform construction is typically the best choice for large-scale construction or if multiple concrete silos need to be created at one time.
Jumpform Silos
Jumpform construction is an economical construction choice as the form can be set up and ready to make the first pour of concrete within a week. Due to an incremental schedule rather than the continuous schedule, costs are reduced approximately 20% over Slipform construction. Concrete storage silos from 10' to 65' in diameter can be built using this technique.
The Jumpform silo framework is reusable and takes just a few days to set up after delivery to the job site. Once set up, the form provides a safe, circular deck used to access and erect the concrete silo from the interior, allowing a smaller job site. When construction is finished, the form is quickly removed from the job site.
Marietta Silos' standard horizontal construction joint detail creates a leak-proof joint system.
Jumpform construction is the best choice for concrete storage silos less than 65' in diameter. Marietta Silos is the only Jumpform manufacturer in the country that complies with OSHA 125' scaffolding requirements.
Stave Silos
Concrete stave silos consist of interlocking concrete staves compressed by exterior steel hoops. The staves are similar to a concrete block, while the hoops provide the primary structural integrity of the silo wall.
The staves of the silo are typically 10" wide and 30" tall, with a thickness of 2" to 5 ¾". Interior and exterior cementitious coatings seal the silo walls.
Concrete stave silos offer versatility and flexibility, as well as economy.