Stave Silo Repair for Aggregates Storage - Florida
Market: Manufacturing
Material Stored: Aggregates
Silo Size: 26' diameter by 52' tall
Issue: Bulging & Cracked Walls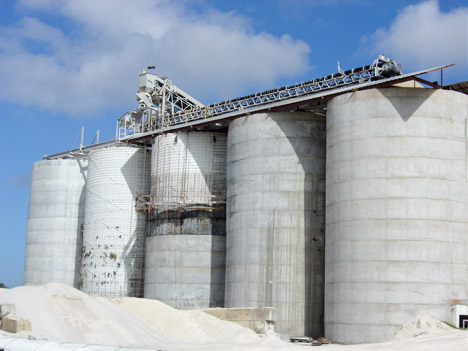 Marietta Silos worked on five silos that were constructed with concrete staves and utilized steel galvanized hoops around the silo for structural integrity.
Typically less than 30' in diameter, stave silos, originally designed and utilized in agricultural markets for silage storage, are typically of simple design with a gravity fed, bottom center discharge location. With industry growth, stave silos were put into new markets as the advantages of silos for bulk storage of loose materials were quickly recognized.
Side discharge chutes, vacuum or pressure loading and unloading, heavier materials and faster throughput requirements were all introduced under industrial silo use. Despite the advantages of stave silos in industry, they were not engineered for this industrial application and therefore can face problems. The silos pictured here faced continued stress on the structure which caused the wall to push or bow out from its normal form, leading to cracking.
To add structural integrity to the existing silo before failure, a collar wall was added using reinforced, poured in place, concrete jump-form technology. Utilizing the existing foundation, a new steel reinforced concrete wall was implemented around the full circumference of the silo from grade to the top. This solution was completely engineered for the customer's specific application. All penetrations and openings were placed for this application to operate as efficiently as possible, and now in a safe manner.
Marietta works with the silo owners' production schedules to repair silos with minimal or no impact on production.